Be sure to get directions to the autoroute from your starting point in Nice.
Take the A-8 direction AIX and Cannes. Tolls will cost about 7 euro (2.70 and 4.30).
Exit at Draguignan (Sortie 36), the second exit after the toll gate where you take a ticket to continue on the autoroute, and
go north about 300 meters, and turn left to get on the N-7, direction Les Arcs and Vidauban.
Continue on the N-7 about 6.5 km and
Turn right on the D-10, direction Lorgues.
At Lorgues, turn left at the round-point, on the D-562, direction Carces, for about 16 km.
Turn right on the D-31 toward Entrecasteaux.
Stay on the D-31 for about 4.5 km.
About 200 meters past the left turn for the D 50 (To Cotignac)
there is a left turn into a small road marked with a blue sign for the Chambre d'hotes.
Turning left there can a rather tight turn. To make it somewhat easier,
continue straight, however, for another 200 meters to the walled cemetery on the right.
At that intersection just in front of the wall, TURN AROUND and go back
(away from the cemetery) and take the second right, up the hill.
At the 'T' in the road, bear to the right.
Continue up the hill, past the home marked "Terre de Lumniere" and go another 50 meters (to the end of the wall on your left).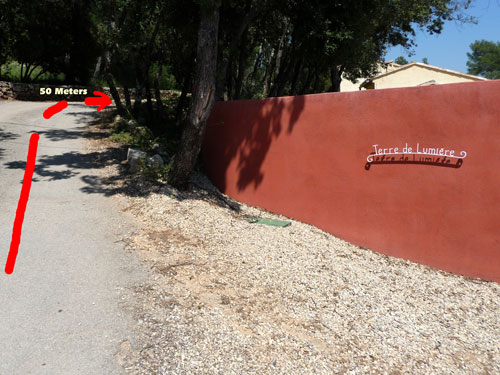 Turn left between the end of the wall and the large, triangular shaped tree.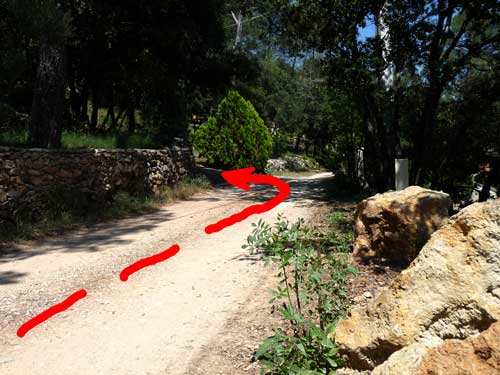 Go up to the end of the small private road and park in front of The Provence Villa.